The Fifteen Properties Are the Glue which Binds Wholeness Together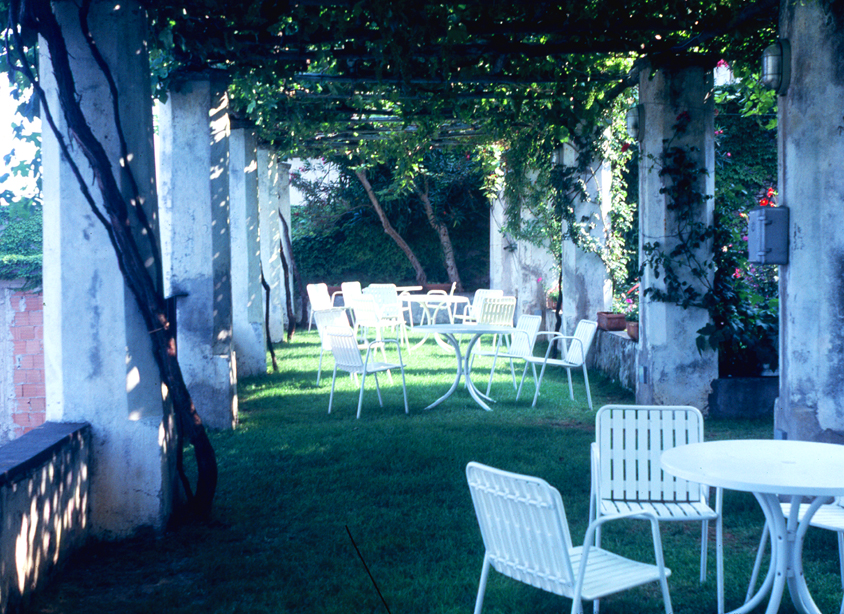 The Hotel Palumbo, Ravello, Italy
A wholeness, is an area of space or land, in which various centers have arisen. On an open green field site, there will be hillocks, edges, cliffs, dips, old trees, ... In an urban site there will be a view towards a beautiful building, a sidewalk wide enough to enjoy, a railing or a cafe which marks a spot so people gather around it. In either case, these centers which have arisen, form the wholeness of the place, and they are, to a greater or lesser degree, coupled with one another. As a result of this coupling, each center gains a little more life. A detailed example of how this coupling works.
In a neighborhood, these centers, and their couplings, will occur at different scales. A village green, a path, a bench, a town hall, a low wall around the green, trees around the green, lanes leading to the green, houses and gardens on these lanes, flower beds in the garden of a house, a lawn, with a distant view…. Since each of these centers brings more life to another, through this coupling, gradually, all the centers together become more vibrant, more self-sustaining, and more alive.
There are just fifteen kinds of glue, or connection, or coupling between centers. They are the ways in which one center can embellish another, or help to give it life. These fifteen kinds of "glue" may be seen as relational structures that are possible, between centers, and which, in creating these connections, form deeper wholeness in that part of space. And the deeper the connections are, the more alive that wholeness is.
Everything, then, in the process of giving life to a neighborhood, may be seen through the introduction of one or another of these fifteen properties. When building on the wholeness that already exists, each of these 15 properties introduces more life to the neighborhood. Each property also brings with it additional centers that embellish those that exist. But this only works if they build on. and extend, the existing wholeness. This is the process through which life is brought into the environment.