The Fresno market is on a prominent city block in Fresno, California, at the intersection of Shaw and Blackstone. The block is 800 feet by 600 feet.

The first market building, which we built about 20 years ago, forms the core of the 12-acre site, and will be the core of the commercial buildings that are built around it. We began work on plans for the whole market area about 20 years ago, and, at Richard's request, first built the structure to house the main market. It is an arched timber structure on concrete block piers, 120 feet long, and 40 feet wide. Richard set to work and planted vines all over it, and they now provide a leafy shade. Fresno can be very, very hot.

Not long after we built the market, Richard moved his mother's old house from downtown Fresno, and put it on blocks to the west of the structure. See the map below.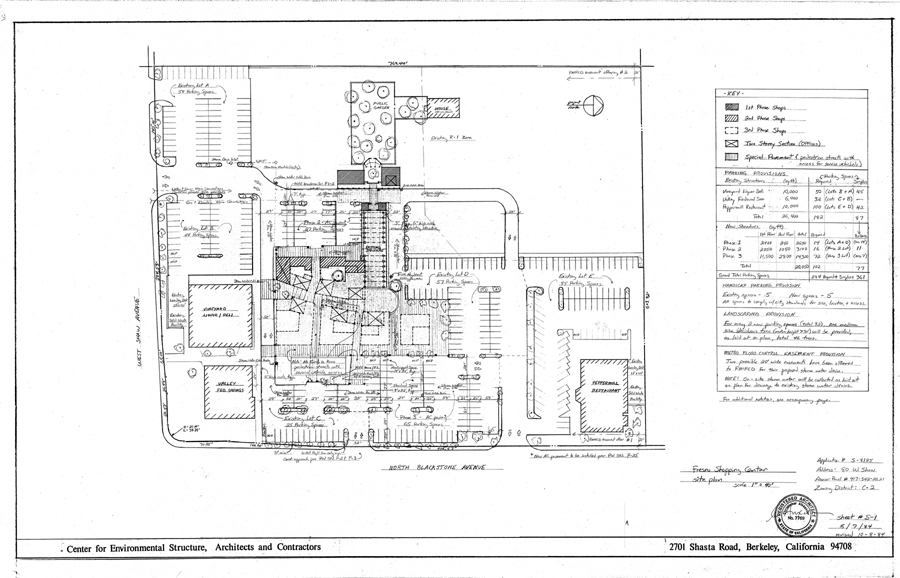 An early sketch map of how the commercial, shops, and workshops might grow around the Farmer's market as their focus. The market structure is visible in the middle of the drawing. Three buildings around the edge, have been standing there, from the time before we started. The remaining buildings shown on this sketch are hypothetical, simply to allow us to get a grasp on where this neighborhood would go, and how it might become lively and beautiful. This plan, like all such plans,is now quite obsolete, and is being replaced by a generative code. (See below).
Once the market was built, Richard began to explore his life-long dream to create a city block in modern ,urban California, that was able to preserve, and encourage, the human community, the mutual respect, the informal way of living, and the importance of human relations and friendliness. Many times during the ensuing years he expressed frustration with the deadly "development game" and its pressure to replace flesh and blood with plastic, but he has hung in their, never losing sight of this dream.